Making an Impact on the Lives of Older Adults
Support Alternatives Impact Forward
Support Alternatives Impact Forward
Making an Impact on Older Adults:
-Our older, wiser mentors; who taught us all how to endure unusual times,
-Incredible volunteers; who assisted to find openings, register older adults and even get them to vaccine sites,
-Caregivers; who stepped in to care for their older, loved ones rather than move them into the high risk nursing home settings,
-Alternatives' professionals; who assured for the ongoing health, safety and well-being of thousands of older adults throughout this past year,
And YOU; who have been a support, a resource and a friend.
ALL have made an Impact on the lives of older adults.
Alternatives is Helping Older Adults Remain Independent

High Quality Services and Impact
The impact can't always be measured in numbers
You, who may struggle to manage your home or your own care. Or you, who struggle to help your parents age successfully. Or you, who share these struggles as you provide support to individuals in our communities. We all have a story to tell and perhaps a need to be met for our mom, friend, grandpa, neighbor or yourself. When an individual regains hope, has dignity restored and once again enjoys the sense of independence when they rejoin their familiar community, how can you put a dollar value on that?

Alternatives has robust outcome measures that demonstrate the impact of our services for 14,000 vulnerable adults. Accountability and effectiveness are extremely important to Alternatives across every program. The Board of Directors actively assess outcome measures and develop aggressive goals going forward. The professional staff at Alternatives try to shore up supports for older adults to enjoy quality of life and enhance well-being.
We serve older adults and adults with disabilities in 16 counties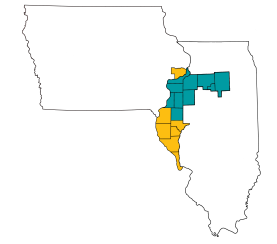 Alternatives' mission is to promote the independence and quality of life for older adults, adults with disabilities and their families for sixteen counties in midwestern Illinois.